Thanks to our expertise and technological innovations we have developed a complete range of biodegradable products that combine robustness and fast composting. They simplify the work of producers, enabling the composting of all waste together without sorting the fasteners when the plants have reached the end of their life cycle.      
 
BIO certifications

ARaymond Agriculture guarantees that our BIO material and all BIO parts are fully biodegradable and compostable.
 
| Product | Class |
| --- | --- |
| Easy 14mm        | Biodegradable & Compostable |
| Classic 21S | Biodegradable & Compostable |
| Easy 26mm | Biodegradable & Compostable |
| Flextruss | Biodegradable & Compostable |
Our biodegradable1 clips are designed by integrating the specificities of biodegradable materials to optimize their robustness and efficiency. They have the same mechanical properties as the plastic clips. 
Visit our Greenhouse clips page:
Greenhouse clips

The biodegradable1 range from ARaymond Agriculture also covers products dedicated for stem support. Their protective design prevents splitting and braking of the stems. The robustness and  flexibility remains essentially identical to the plastic versions. 
Visit our Greenhouse supports page:
Greenhouse supports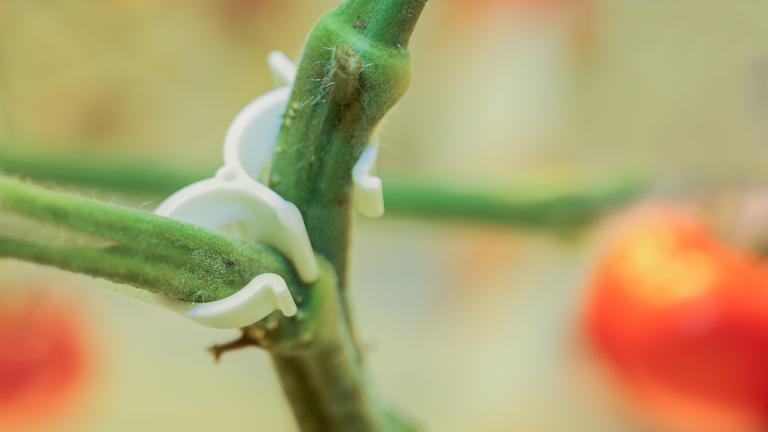 Made from 100% compostable PLA, UV-resistant with a thickness of 800 m/kg 
Visit our page Biodegradable twine:
Biodegradable twine

PRODUCT FOCUS
Environmental commitment and maximum resistance
The biodegradable version of the Easy Clip is environmental friendly and allows fast composting. The optimized design with a strong locker, gives an audible "click" that confirms that the clip is closed when in place. It is easy to position, with a hinge designed with twine guide. And it's compact size allows good packaging conditions to decrease the freight costs.