Armitage Nursery, formerly Starwood Nursery, is a wholesale operation located in the South Willamette Valley in Eugene, Oregon. Purchased in 1999 by Don McAlister, then in 2016, Don acquired the former Bloomers Nursery, expanding the growing fields to over 35 acres. Armitage Wholesale specializes in the highest quality trees, conifers, shrubs, groundcovers, perennials, ferns and vines. They also provide a brokering service to the local community for anything Armitage cannot provide in house.  They can procure project specific plant material from over 150 different nurseries. Their knowledgeable staff takes pride in providing outstanding customer service, from pricing any plant list, to pulling any size order.  Their number one goal is to assist the wholesale customers in the landscaping industry.
Ivy has been a leader with Armitage Wholesale Nursery for the last 3 years and has worked as a buyer in the industry for over a decade. With a strong educational background is in horticulture and plant biology Ivy is working hard to grow the highest quality nursery stock available. 
Interviewer: How did you hear about A Raymond Agriculture and the Agilo solution to tie the trees?
Ivy: Our previous supplier of tree ties stopped manufacturing their product a couple of years back.  The ties were constructed of a simple collar and thin plastic that would break apart after only a year or two of use.  We needed a longer-lasting higher quality tie and the Agilo system seemed like an ideal solution.  I stumbled upon the Agilo system after scouring the internet.  I compared several systems and found that Agilo was by far the most economical option when considering durability, quality, ease-of-use and cost.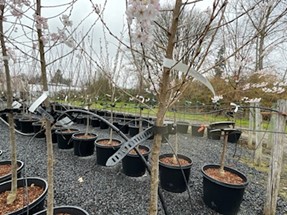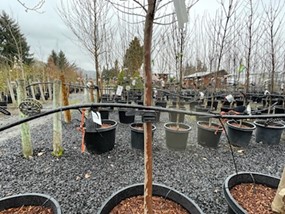 Interviewer: What was your problem that made you think of our solution? Did Agilo solve this problem?   
Ivy: We needed a longer lasting, stronger tree tie.  For almost a year now we've not had a single issue with any of our Agilo ties.  They are stronger than any tie we've previously tried, supporting 3in+ caliper containerized trees in a windy field.             
Interviewer: What Quality specs of Agilo would you highlight to others thinking about trying it?    
Ivy: Agilo so far has proven to be incredibly durable. I would suspect that this thick high-quality tie will last at least 7 years in the Willamette Valley climate.  The Agilo system is gentle on bark, we've had no trunk damage thus far. Agilo is incredibly strong and can support large caliper trees.  Set up and use of the Agilo system is easy. 
Interviewer: Would you make this purchase again or purchase more in the future?
Ivy: Absolutely! 
Interviewer: What percentage of fallen trees do you currently have with the Agilo VS without the Agilo?
Ivy: I would say historically 5-10% of our trees had issues staying upright in a storm.   Since using Agilo we haven't had a problem with any fallen trees.