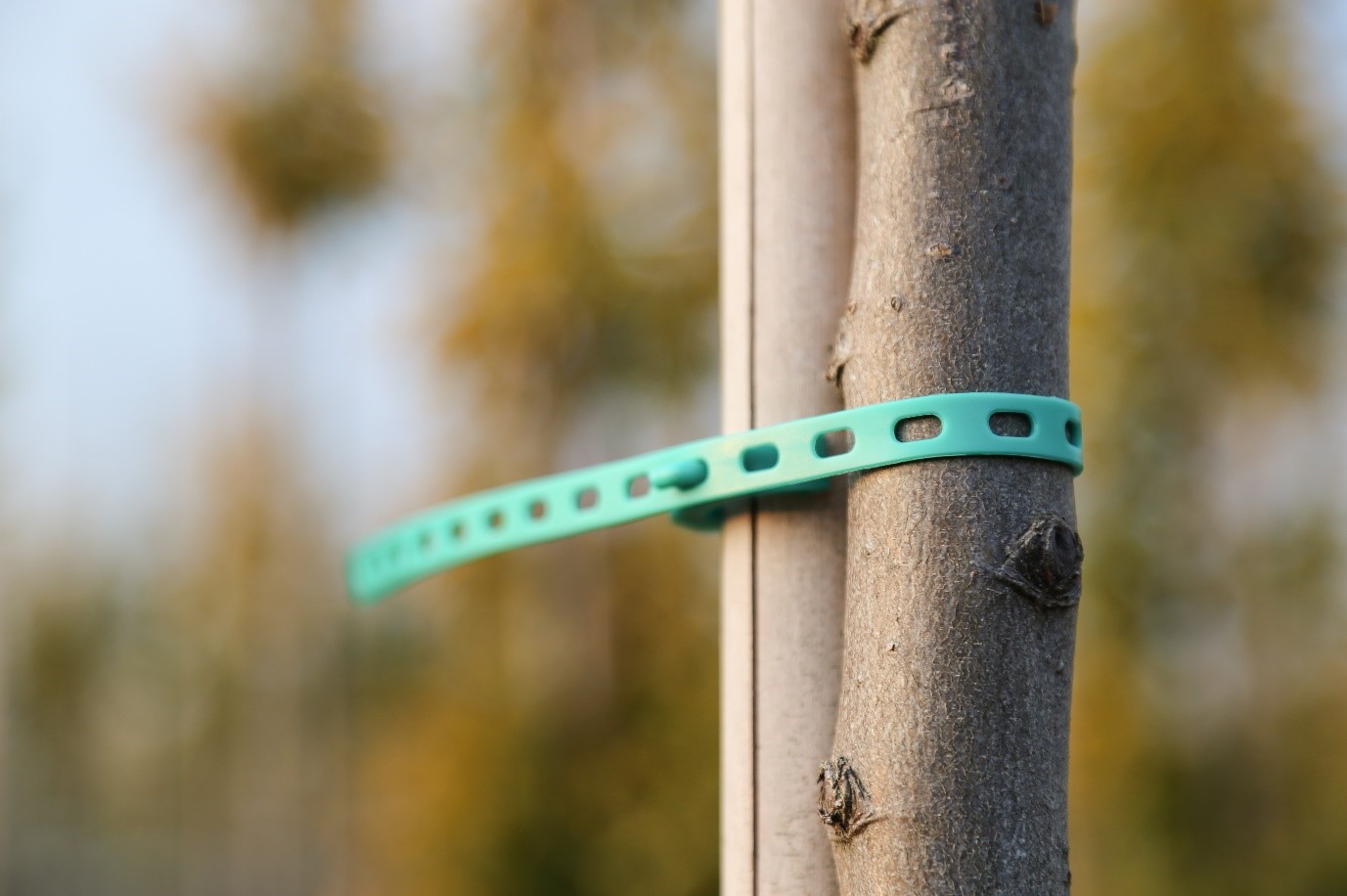 "The Orbit Fastening System goes from strength to strength"
A robust and efficient fastening solution designed to attach trees to bamboo tutor sticks, ARaymond Orbit fastening system has gone from strength to strength in the past 12 months. Launched at the 2019 edition of the Fruit Logistica fresh produce show held in Berlin last February, the Orbit is now being used by growers in Spain, France, Italy, Germany, The Netherlands and the USA. 
"A solid fastening system"
Initially developed by ARaymond's for use with ornamental trees, the Orbit system has also proved very successful when used with olive and nut trees thanks to its solid fastening design and excellent flexibility. Made from durable and UV-resistant materials, the Orbit system offers growers increased resistance to weather damage in the field whilst protecting the delicate young tree trunks to increase their market value.
"Improving sustainable development"
Spanish research institute IRTA has been testing the ARaymond Orbit system for the last 2 years at their super intensive olive plantations located in Tarragona. Owned by the Government of Catalonia, IRTA is dedicated to helping growers find new and innovative ways to grow crops whilst promoting technological advancement. Following the initial trials, they have seen excellent results from the Orbit fasteners which they believe can help improve sustainable development within the agriculture sector.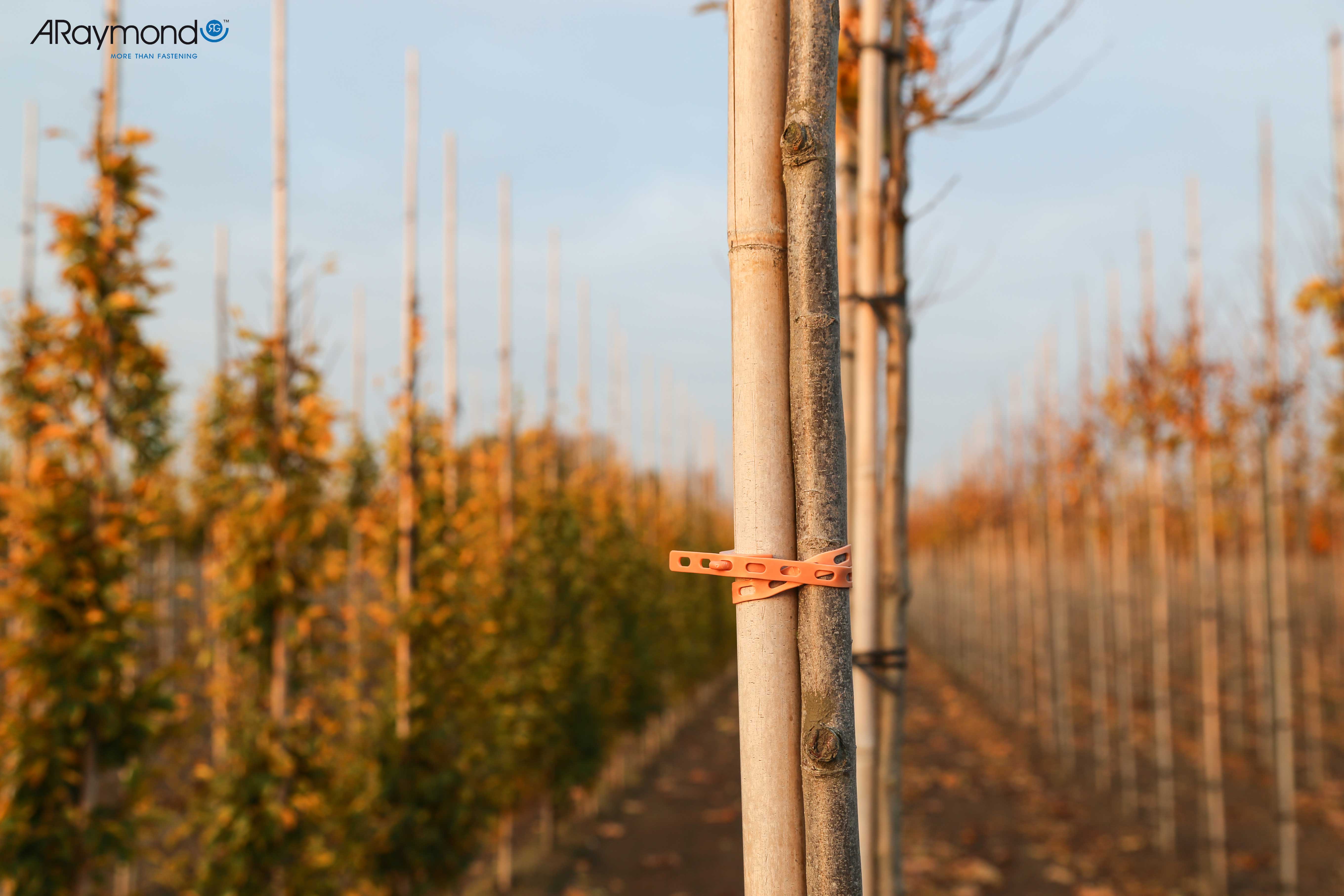 "Excellent resistance to climatic conditions"
Ornamental tree nursery Vivers Planas have also been using the Orbit fastening system on their 25-hectare production facility for over a year. Located in Catalonia, north-eastern Spain, Vivers Planas produces high quality plants for export to markets all over the world but their facilities are subject to extreme weather conditions including strong wind and rain plus freezing temperatures which have created problems with plastic fasteners snapping and causing trees to fall down in the past.

Since implementing the Orbit system throughout the facility, the Vivers Planas facility has been very impressed with the quality of ARaymond fasteners and their excellent resistance to different climatic conditions. Thanks to the Orbit's sturdy design and performance, their growers have reported that they have experienced enhanced security for their trees with no damage to the trunks during the crucial growth period.
"A reliable and economical solution"
Easy to use and to adjust once in position, the Orbit system can be installed with no prior training or experience in less than 3 seconds, allowing growers to reduce their labour costs whilst increasing productivity within the nursery environment. Oriol Sullà, a grower from Lleida in northeast Spain has been using the Orbit fasteners with his nursery-grown trees since last year. He comments:

"I chose to use the Orbit fasteners with my olive, almond and ornamental trees because it is a much faster, reliable and economical solution than the other systems currently available on the market. I attach the Orbit during the first 2 months of growth and then simply adjust the fasteners as required as the plants grow. This saves me time and ensures I don't need to use additional products at different stages of growth."
 
"Reduces plastic pollution and waste"
An environmentally-friendly system, the Orbit's robust design guarantees that each fastener can be safely removed and reused during multiple production periods with no need for the grower to purchase replacement fasteners during the Orbit's life-cycle. Reusing the Orbit fasteners also allows growers to reduce plastic pollution whilst keeping the soil entirely free of plastic waste, another key benefit for growers who are looking for an added-value solution.

For more information about the Orbit fastening system or any of ARaymond's innovative fastening solutions and clips for vegetables, trees and vineyards, check out our full range of plastic and biodegradable products http://bit.ly/2VKDmx4