Designed specifically for use with greenhouse production systems, ARaymond's Classic Hooks are a value-added fastening solution. Quick and easy to install, the Classic Hooks are fully customisable with several different types and lengths of twine available.
Created by ARaymond to save producers time whilst increasing crop production, the Classic Hooks are widely used in greenhouse cultivations across Europe.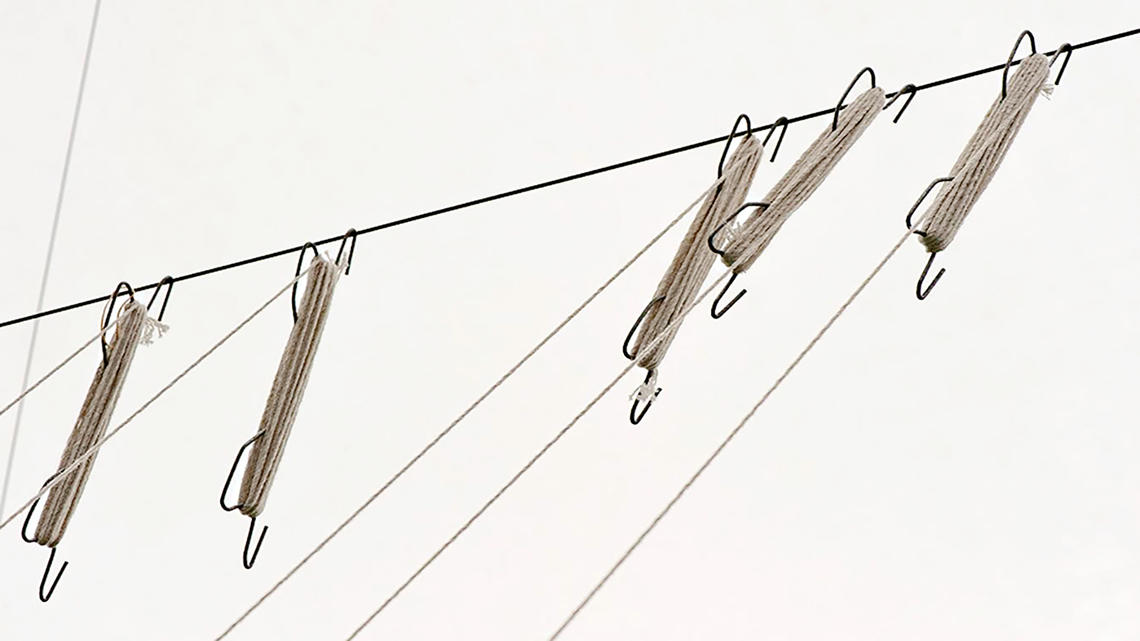 Offering our customers several advantages, the ARaymond Classic Hooks can be tailored to meet each grower's individual requirements and are designed for use with a range of greenhouse crops. To find out first-hand how the hooks have benefited our customers, we recently caught up with Mr Henri Jourdain, a tomato producer from the Ardèche region in southeast France who has been using the ARaymond Classic Hooks at his greenhouses in Pierrelatte.
AR: Mr Jourdain, can you tell us which ARaymond hooks you've been using?
HJ: We use the ARaymond Classic Hooks with the freefall function across our production facilities in Pierrelatte. So far, we have used over 350 000 of the Classic Hooks to increase the productivity of our tomato crops within the greenhouse environment.
 
AR: Why did you choose to use ARaymond's Classic Hooks?
HJ: We chose the ARaymond hooks because of their excellent quality/price ratio and also because they are fast and easy to use which enables us to increase our crop yield whilst reducing our installation costs.
 
AR: What are the key benefits for you when using the Classic Hooks?
HJ: One of the main reasons we use the ARaymond hooks is the way they allow us to optimise both installation time and labour costs. Thanks to the free-fall system, the hooks are easy to install and to adjust which is important as we need to lower the plants every 10 to 15 days.

AR: How have the Classic Hooks helped you to reduce labour costs?
HJ: The quicker the greenhouse workers can install and adjust the hooks during the production phase, the more efficiently we can work. With ARaymond's free-fall release feature, all we have to do is hang the hooks which allows us to reduce our labour costs significantly.

AR: Is length adaptability an important feature of the Classic Hooks?
HJ: Yes, as we grow multiple varieties of tomato, it is crucial for us to ensure we don't have a shortage of twine at the end of the crop cycle. With a 10cm accuracy measurement, the free-fall function of the ARaymond hooks enable us to be extremely precise during installation.

AR: Do the Classic Hooks adapt well to your plants?
HJ: Yes, it's important for us to have hooks which have the right steel thickness and twine length in order to support different varieties without damaging the plants. When it comes to the ARaymond hooks, we are very satisfied with the quality of the hooks and twine which are ideal for our cultivation.
 
AR: Are there any other advantages to using the Classic Hooks?
HJ: From a logistics point of view, I appreciate that the boxes with the different-sized ARaymond hooks are always clearly labelled. This enables our logistics team to easily distribute the hooks across our greenhouses saving us valuable installation time.

AR: Will you continue to use the Classic Hooks for your next production period?
HJ: Yes, we are very satisfied with the ARaymond hooks which are an excellent product. Thanks to their solid design and competitive pricing, we will continue to use the Classic Hooks year after year to ensure the same first-rate results for our crops.
A versatile solution for greenhouse producers, the ARaymond Classic Hooks are available in 180 mm and 220 mm and can be customised for use with plastic or Bio twine. To learn more about the Classic Hooks or any of the other products from our range of greenhouse support solutions, simply click here for more information.