Tree tutoring
Designed to provide support for saplings during the growth period, ARaymond Agriculture's tree tutoring solutions are easy to use within tree nurseries. Created for use with ornamental trees, our tree nursery solutions can also be used with olive and nut trees thanks to their solid fastening design and excellent resistance and flexibility.   
Robust and efficient, ARaymond's Orbit tree tutoring solution is designed to attach saplings to bamboo sticks quickly and easily whilst providing enhanced tree care. Made from durable and UV-resistant materials, the Orbit system is an environmentally-friendly solution which keeps your soil free of plastic waste and can be reused during multiple production periods.
Text
Orbit
For Ornamental, Olive & Nuts trees
Reusable and protected against UV & high temperatures
4 years lifetime
Labor costs decrease
Image
Wire tension
Developed specifically for use in tree nurseries, ARaymond Agriculture's wire tension supports are the ideal tree care solution for growers. Designed to keep container trees in an upright position, our wire tension supports provide tree protection and wire protection, safeguarding plants from pot blow over in high winds. 
Fully optimised for use during the life cycle of ornamental trees, the Agilo is made from premium UV-resistant materials and features 2 independent locking systems. A wire-locking system prevents wind tension while a flexible belt attaches to the trunk to ensure greater stability for young trees during the development phase.
 
Text
Agilo
For Ornamental, Olive & Fruit trees.
Keeps the tree attached to the wire.
Two independent locking systems.
High grip and tree protection.
Image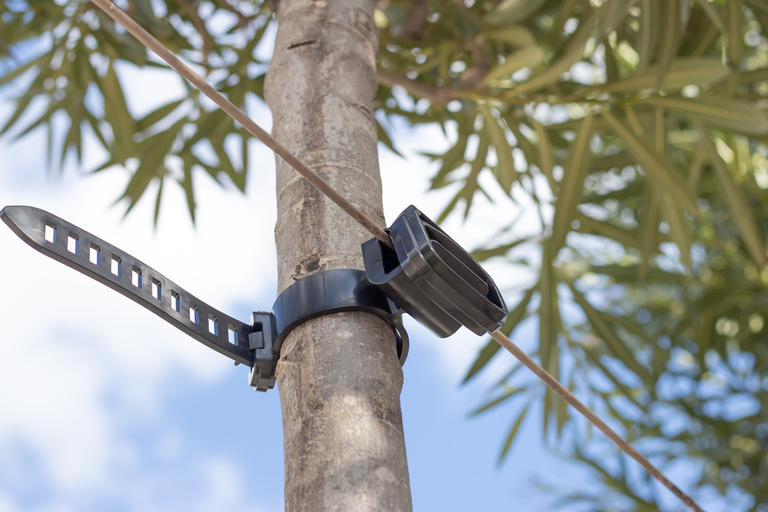 Grass solutions
The latest innovation in our range of tree nursery solutions, ARaymond Agriculture is delighted to offer a new line of grass and tree care solutions. With weed control one of the main problems faced by tree nurseries, we have developed the Tree Disc, a cutting-edge tree grass killer. Designed to eliminate weeds in a nursery setting, the Tree Disc provides efficient weed control without damaging the roots and trunks of ornamental plants.
Text
Orbdisk
•    For Ornamental, Olive & Fruit trees.
•    Avoids grass to grow around the tree.
•    Suction cup effect with optimized material to have 4 years of life.
•    Adaptable sizes depending tree grower needs. 
Image